ISN'T IT TIME TO SAY GOODBYE TO THE ELEPHANT?
In the workplace, elephants cause the same roadblocks when they take up residence there. Maybe it's because of politics. Work starts at 8 am, the boss's daughter regularly comes in at 10. Everyone feels this is unfair, but who wants to lodge a complaint?
Maybe the "elephants" are more subtle. People don't listen. They don't get along. They focus on petty issues that disrupt the work flow. You expect them to be adults who do their jobs and, yet, you…
Feel challenged by people who commit but don't follow through
Think that you've given crystal clear instructions only to find that the delivered results are just not what you were looking for

Have the same discussions with people, over and over, with no new results
Often hear…"It's not my fault", "I thought you meant…", "I was waiting on…", and wonder if anyone accepts accountability
Spend too much time resolving conflicts or issues that you feel should never have occurred; constantly ask yourself, "Are these people speaking the same language?"

Often ask yourself why you see so much conflict between individuals or teams in your company even though you have worked hard to prevent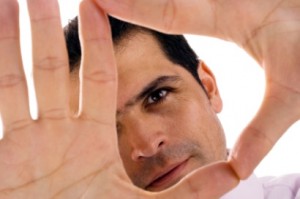 Any of these things can affect productivity. They can affect the work climate. They take your time to diffuse. They can lead to stress for the work force as well as for you.
Like a real elephant that might be stubborn enough to stay put and refuse to move, the less tangible elephants don't fade away and can make navigating the workplace difficult.
WOULDN'T LIFE BE PERFECT IF THESE ELEPHANTS
MOVED OUT OF THE WORKPLACE?
You could create a culture of commitment and accountability within your organization
Conflict would be reduced or eliminated and as a result productivity and morale increased
Barriers between individuals or teams were broken down – building trust and boosting motivation
You had an extra 10 hours a month available for strategic thinking or company development because you have reduced the time you spend handling conflict or crisis or in meetings that went on and on with no resolution
Communication can be a barrier or a tool to revolutionize
your company and improve all relationships.
STELLAR communication improves productivity and performance, reduces redos, increases profits and most importantly allows everyone to have more fun. On the other hand, miscommunication will hamper growth, negatively impact relationships, cause projects to be delayed, turnover, frustration and more.
HOW CAN YOU REMOVE THE BURDEN OF MISCOMMUNICATION AND
IMPROVE COMMUNICATION AMONG YOUR STAFF?
Imagine your work life when your department, team or company shifts into positive energy…
Imagine that instead of being clock watchers without initiative and ownership, your staff becomes happy, efficient, focused, energized, accountable, creative, and trusting…
Problems that arise are not the subject of office gossip and destructive backbiting, but are quickly brought into the open, confronted, and solved.
Achieving openness and harmony in the workplace is an admirable goal that just doesn't happen. Workplace elephants don't just pick up stakes and walk away. You must
Chase the Elephants Away
And then create an environment that makes them feel unwelcome to come back. Our Chase the Elephants AwayTM series, available as a digital product or as a physical product with digital access, will help you achieve these results…and more.
Realizing that bad communication patterns can develop into colossal problems, we offer techniques for downsizing potential "elephants" into confront-able, manageable segments.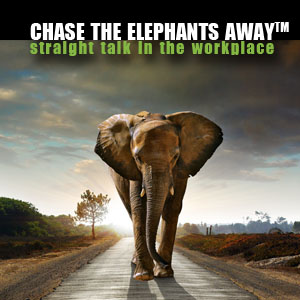 We'll teach you:
The barriers and bad habits that interrupt communication
What interferes with gaining commitment and accountability from others
Listening like you've never listened before
And much, much more….
The series is broken down into 45 minutes sessions that address the issue of communication and the challenges of communication. These insightful CD's:
Show you how miscommunication impacts your organization and your relationships
Give you the exact formula to follow to eliminate the bad communication and set-up a pattern of open and effective communication
Tells you how to use communication as a tool to make your company more successful and more profitable
Allow you to gain commitment and accountability from everyone in your business using powerful and effective communication tools
Offer you the building blocks you need to change the dynamic of your business
What you GET with Chase the Elephants AwayTM:
You may be thinking that if your purchase of Chase the Elephants AwayTMcould significantly change the dynamics of your business communication, you would be getting your money's worth.
But – there's more.

CTEA – Quick Start Guide
The quick start guide will provide you with the top 10 Barriers to successful communication and the top 7 steps to handle conflict when it occurs.

CTEA – Transcription
Like to see it in writing? Think you might have missed something? What text to refer back to? We have transcribed the audio series for you, so if you are someone who learns best through reading, we provide you with this option as well.
Q&A audio

This audio includes the ten questions most frequently asked about communication and answers to these questions. You'll learn what to do when these communication challenges hit you.
CTEA – Communication Assessment
Where do you think your communication falls short? Using this handy chart, you can zero in communication problems experienced by your team.
All of these bonuses will be available for you to download once your payment has been processed.
The digital product is available for $99 today.

The physical product, with digital access, is available for just $147.

Take a Second to Read the Success That Executives and Business Owners – Just Like You – Have Had With Linda Finkle. Now you can have Linda as YOUR personal coach with the Chase the Elephants AwayTM Self Study Program!
"As part of management team building, we believed that improved communications could greatly enhance our management team's ability to execute. We hired the Incedo group to help us understand how we could better communicate with the varying management styles. After just two management team building sessions with Linda Finkle, we have learned tools and techniques that we are employing every day. Other employees are adopting these behaviors so that overall communications in the company has been enhanced."
Frances B. Craig
President
Unanet Technologies www.unanet.com
Linda Finkle is incredibly insightful, thought provoking and genuinely helpful. She combines strong listening skills with very practical and compelling business judgment. Linda's coaching has been instrumental in identifying and developing critical success factors in key senior leaders. Most importantly, Linda cares deeply and her professional relationships. She is certainly interested in success, but more importantly, she is unequivocally committed to doing what is right. We place enormous value on our relationship with Linda and know that together we will share many future successes.
Larry Dahl, President
Lincoln Benefit Life, An Allstate Company
Linda and I worked together for a over five years. During that time she provided insightful appraisal of organizational and functional areas that needed modification, attention or improvement. She offered a number of sound suggestions, many of which I implemented or am in the process of implementing. She was an excellent sounding board and provided honest feedback on some of my near and long term plans.
Linda was instrumental in helping my business become well organized and focused. Her support also enabled me to reduce the high levels of stress stemming from my work and clients. This carried over into my personal life and helped my family handle household projects as well. She used a measured combination of encouragement and gentle pressure to move me to action on a number of fronts.
Ed Beemer
Principal
CorpComm Solutions, LLC
If Your Communication Does Not Improve…
Nothing Will Ever Change
You can try time management tips, you can try productivity classes, you can try meetings and you can try all different classes, workbooks and advice…
But if you don't have the proper communication within your organization, then nothing will ever change.
Communication is the foundation that your business is built upon, and without a good foundation you will never be able to grow and prosper like you desire.
You have the opportunity, right here, right now, to discover something truly magical. You can watch as your entire business STOPS managing problems and starts making true progress.
But what will happen if you leave today and say "no" to this opportunity? You really have only 2 options…
Everything will stay the way it is right now… You will continue to waste a huge percentage of your time working out problems and making corrections. You will continue to struggle to get your team to work together and you will continue to wonder if there is something more you could do…OR
You can discover the formula that you can follow… step-by-step… to set-up the effortless communication that your business needs. You can put these tactics to use and you can watch as your employees over-perform!
With Chase the Elephants AwayTM you have the unique opportunity to turn your office around, make your job easier and start earning the profits that you deserve.
You really have nothing to lose but time, productivity and profits…
Don't Wait Another Second… Order Today!
What are you waiting for?
Are you ready to revolutionize your communication and your company?
Chase the Elephants AwayTM is the course that your business needs. In this 3 hour audio series you are going to discover how to eliminate all those problems and establish a solid foundation for your future growth.
You know that things aren't going to magically get better. You know that you need to discover the exact step-by-step formula that has worked for other smart executives and business owners – just like you – time and time again!
Don't wait another second.
Order today and transform from a business that manages problems to a business that makes money
No Theory – Just Facts!
With Chase the Elephants AwayTM you are going to get an actual template and a formula that you can put to work in your business. No guessing! No questions! No confusion!
This is not theory on how communication might help your business – this is a tool and a formula for you to put into effect so that you can start seeing REAL results RIGHT AWAY!
If you are looking for a way to gain commitment and accountability within your organization, then you need to order Chase the Elephants Away today.
Effective Communication = Big Profits and Big Growth
Communication is the foundation that a successful business is built on. If you have any problems or issues within your organization, then you MUST establish a solid form or communication if you ever want to overcome them.
Don't let these problems KILL your productivity, your profits and your business…
Get Chase the Elephants AwayTM and take your business to a whole new level– starting now.