ga('create', 'UA-1231826-1', 'auto'); ga('send', 'pageview');
Do you feel like even the idea of planning sucks the fun out of your day?
Has planning become something you view as a soul-sucking exercise that just predicts disaster?
Plans don't work, people do — do you have the team and resources you need to successfully accomplish your big, hairy goals?
Planning looks into the future through the lens of the past. Make plans after you've actually done something. (Planning something you've never done is pooled ignorance.)
If you want to tap into the one hidden power that all of the world's most successful people use to attain anything they want, go beyond simply wanting what you don't have and mastering the skills to get it and if you're ready to eliminate the stress, frustration and disappointment of falling short of your sales, business or career goals, then this may be the most important message you ever read.
The Navy SEALS have a saying,
Plan your dive and dive your plan.
What makes the SEALS so effective is that they stick to and execute a solid plan from beginning to end. Invariably, this leads to overwhelming success.
The great news is that we don't have to join the world's most elite Special Forces team to bask in the glory of a great plan well performed…or to master the secrets of creating plans that never fail. You can do the same thing in your business whether you're a sales associate, partner, employee or the owner!
Learning to plan is more than just jotting down a list of to do's. It's understanding where you are, where you want to be and creating an unbreakable roadmap that gets you there fast!
Becoming a master planner keeps you focused on the prize and keeps you from straying into unproductive and unprofitable side streets…side streets that do more than just distract — they can actually lead to failure.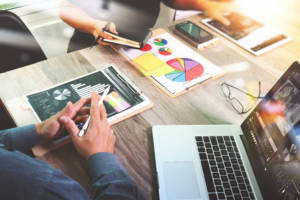 The most effective people are those who understand the true fundamentals of planning. How to create a goal, formulate an exact and detailed plan to reach that goal and then adhere to that plan as if their life depended on it. When it comes to the success of your working life…it really does.
So are you going to stay frustrated because you never seem to reach those finish lines you strive toward? Are you going to spin in circles never quite grasping for what you want?
Or are you going to make one of the most important decisions of your career and master the skills to create winning plans that drive in the cash, set you apart from the flock, and give you the power to achieve anything you put your mind to?
Why should you work with me?
Hello, my name is Linda Finkle, MCC (Master Certified Coach), bestselling business author, creator of an 8-figure recruiting firm, and field-tested business coach. Over the past 30+ years, I've worked with ambitious and hardworking people just like you who are sick and tired of reaching for what they deserve, only to fall just short of their goals.
Early in my career, I discovered what only a select few of the most successful people of all time know. The one secret that, if mastered, gives you the power to acquire anything you want in life or business. I learned the power of planning and how to use it correctly to achieve astonishing financial and business goals.
I didn't just learn the secrets that unlock the true power of planning — I went out and used them to help others just like you. Over and over again, I've shown hundreds of entrepreneurs, managers, sales people, business leaders, and others how to go beyond what they think they know about planning and tap into their true potential with a massively effective planning system.
I built a $7,000,000 recruiting business from scratch with nothing but a plan — not just a goal and a few steps to reach it — a real, power-packed plan that set it all down and kept me and my employees laser-focused and highly profitable.
Worked with a food manufacturer who was losing more than $300,000 in rejects and lost product due to the complete lack of quality control. In less than two years, thanks to a solid plan that involved creating systems, processes, procedures, assessment of the problem, and more, we were able to cut their rejects and refunds down by 80%.
My first business book, Finding the Fork in the Road, went to Amazon's best-seller list thanks to a carefully crafted plan that I followed religiously with unflagging hard work.
Worked with a company's customer fulfillment department and created a plan that increased their overall sales by 20%.
Over the last 30+ years, I've used the secrets of proper and profitable planning to achieve these and many other goals, both for myself and for my clients. Now it's time to give something back — it's time for you to learn the most critical secret to any success you have ever wanted. It's time to learn and master the key that unlocks your true potential — the ability to conceive and execute accurate plans!
Failure is not the opposite of success, it's part of success.
While you may have goals or plans that have failed in the past, it's important to recognize that each failure teaches us something. Let your past failure be the opportunity to begin again, only this time more wisely — with a solid plan.
You were born to win, but to be a winner, you must plan to win, and expect to win. ~Zig Ziglar
In this multi-part "Plan It 2 Win It: course, I offer you the benefit of my decades of planning experience that encompass the master keys to creating and executing plans that, if you're willing to work them faithfully, will get you what you've wanted for so long.
There is nothing more satisfying than fixating on a specific target and then acquiring it through step-by-step action — that feeling of conquering whatever stands in your way is literally priceless!
"Plan It 2 Win It" comes in several parts, each building on the last. You can pick and choose which module best suits you and then purchase additional modules when and if you need to, and at a discount. If you're anything like me, though, you are probably hungry to learn it all and I've created a fully comprehensive course just for you.
In Plan It 2 Win It you'll learn:
How to create and follow hyper-accurate business plans to jumpstart your success and skyrocket your profits.
The keys to effective planning taken from samples of my plans that have been responsible for generating tens of millions in profit for me and my clients.
The difference between effective planning that gets results and what most people do that actually prevents them from getting what they want.
The difference between concepts and wants and true goals and how learning this difference is the key to generating unbelievable amounts of cash.
How to say no — learn the critical secret of only taking on a client or project if it helps you meet your planned goals and how to turn down work that's really only going to keep you away from the ultimate reward.
How to analyze the resources you need to execute your plan — do you have the right people, skills, resources, and systems to drive your plan forward?
And so much more!
What Linda's students and clients have to say about her recipe for planning success:
We initially engaged Linda to help make a successful transition off of our current team at the time and form a new team of our own. In preparation for this transition, she helped us develop our new team structure and roles by diving into our SWOT analysis, business plan, and goals. We worked through the conversations we would have with management, current team members, our clients, and potential new hires. As a result of our work with Linda, we were well prepared for the conversations, kept 100% of our clients, and hired a new assistant. During this time, we had to stay focused on our metrics for the business and meet our goals, which Linda ensured we did.
We interviewed several coaches and scheduled those calls back-to-back. Upon completion of the calls but before having a thorough debriefing conversation with each other, we each had Linda at the top of our list.
Sonja: "During our interview call, she kind of scared us. I felt that she would definitely be able to hold us accountable."
Blake: "Linda has great rapport and is very relationship-focused."
These were the initial reasons we hired Linda, but they still hold true today. The combination of these has led to an amazing relationship that neither of us would give up for the world. We continue to work with Linda to help us take our business to the next level.
When I started to work with Linda I knew I was ready for something more, and needed help to get there. I wanted to take my business to the million-dollar producer level and knew I needed to create a business model that would provide sustainable growth. I heard Linda speak at a conference and knew then I needed to work with her. Her energetic style and long list of accomplishments came across during her presentation and motivated me into action. Her customized approach to coaching has helped me focus on my strengths, set realistic goals and keeps me accountable. In the last year, my business is 30% over the previous year, I am more confident and recognize and embrace my talents and abilities to create a business that resonates with who I am. I'm looking forward to reaching the million-dollar producer level with Linda's support and help.
I've found working with Linda provokes me to think, analyze and take action on the things that I need to change in order for me to have better outcomes.
We hired Linda to speak at our annual Women in Finance event with the theme this year on Professional Presence when Linda discussed negotiating skills for women. Linda was easy to work with from our first interaction. She clearly knew the topic and customized it to our audience. One of our members said "The negotiation's presentation was perfect, as I learned a lot and have already shared it with my assistant, husband, and few friends who already have learned something from you, too!" The presentation was productive and information and Linda was an engaging speaker. If you are looking for an inspired, motivated speaker then Linda would be an excellent choice.
Linda Finkle is incredibly insightful, thought-provoking and genuinely helpful. She combines strong listening skills with very practical and compelling business judgment. Linda's coaching has been instrumental in identifying and developing critical success factors in key senior leaders. Most important, Linda cares deeply about her professional relationships. She is certainly interested in success, but more importantly she is unequivocally committed to doing what is right. We place enormous value on our relationship with Linda and know that together we will share many future successes.
I believe working with Linda at Incedo Group has made me a better leader. The bottom line is she forces you to sit down and think about what you are doing, why you are doing it, how you are doing it and its impact on others. This is invaluable to leaders who have to perform at their peak, in a world that equally regards consistency and the willingness to change.
I had recently been promoted to a Director position, and was looking for guidance in stepping into that role, and continuing on a path of professional growth. My objectives were to improve my leadership abilities, learn to effectively hold others accountable, learn to look at the company as a whole vs. just my department, and contribute to the direction and success of the company as a whole.
In addition to stepping into the promotion to Director, there were also major changes in the organization at that time. Linda helped me navigate the landscape in a professional and effective way. Her guidance gave me the tools to stay centered and remain focused. In addition to the internal organizational changes, a couple of my largest accounts had been struggling, resulting in loss of business for all of their major partners. While working with Linda, I was able to increase my overall sales in the face of those major challenges. I believe that my work with Linda has elevated me as a professional, providing me sustainable skills and abilities to continue to escalate my career.
As a woman who is striving to be successful in business, I was drawn to Linda as an example of a strong, successful, and confident woman who had a lot of experiences to pull from. Further, her style of communication is straightforward, easy, and open. I spoke with 3 or 4 coaches, and the choice was quick and easy.
When we hired Linda, we wanted to develop two of our managers' communication skills to prepare them for the C-suite. We wanted to put concrete deliverables into action such that learning could be applied in real time. Working with Linda, our managers not only had the opportunity to bat above their class, but improved their communication skills across the board and clarified and refined their developmental goals.
Linda was recommended from a long-time colleague in employee relations that I trust. After speaking with her and several others, she was the clear choice. A strong coach who insists on establishing measurable outcomes. Compassionate but direct, time with Linda is well spent.
Get the master key that unlocks your full potential and don't waste another day not getting closer to what's rightfully yours.
Plan It 2 Win It is really a series of products, each one incorporating the information from the one before. I understand how tough it can be trying to manage everything in your work and personal life. I get what it takes to give up some of the little free time that you have to add in yet another task.
I also know what it's like to stare at the horizon of your business dreams and never seem to get closer… that was me before I discovered the secret power of effective planning. Once I mastered the recipe for planning success though, I've been able not only to get to that horizon but see beyond it to bigger and better things.
You can too!
So I've put together three options to choose from. You can start small and build upon what you've learned, or you can jump in and buy the fully comprehensive, power-packed version which has everything and they're all loaded with freebies and bonuses that are so valuable they're worth the price on their own merits!
Which PI2WI product is right for you?

| | | | |
| --- | --- | --- | --- |
| | Starter Kit | DIY Kit | Ultimate Course |
| Business Plan Outline | ✔ | ✔ | ✔ |
| Audio of me being interviewed about business planning | ✔ | ✔ | ✔ |
| Top 10 Dos and Don'ts about business planning | ✔ | ✔ | ✔ |
| How to create goals template | ✔ | ✔ | ✔ |
| Two articles on planning | ✔ | ✔ | ✔ |
| DIY Guide | ✖ | ✔ | ✔ |
| Audio of owners of TenDot corp discussing how planning turned business around | ✖ | ✔ | ✔ |
| Top 12 challenges faced when planning and what to do about it | ✖ | ✔ | ✔ |
| Time and productivity assessment | ✖ | ✔ | ✔ |
| Article on planning | ✖ | ✔ | ✔ |
| 16 Lesson audio instructional course with workbooks | ✖ | ✖ | ✔ |
| Audio of Debra Harrison of international law firm of 10 agreements all businesses need | ✖ | ✖ | ✔ |
| Defining goals for your business chart | ✖ | ✖ | ✔ |
| Weekly activity template | ✖ | ✖ | ✔ |
| 3-year master plan chart | ✖ | ✖ | ✔ |
| Article on planning | ✖ | ✖ | ✔ |
Just the bonuses alone are worth the price of the Ultimate Course package. You get the 16 lessons and worksheets, all of the great information and bonuses from the first two packages and what's listed above for an amazingly low price of only $295!
Imagine — all of this for less than $300! Compare that to even a one-day seminar on the secrets of powerful and effective planning…which wouldn't contain half of what you're getting…and you'd be looking well into the thousands!

Stop stressing over whether or not things will come your way and start making them happen and on an exact schedule you create.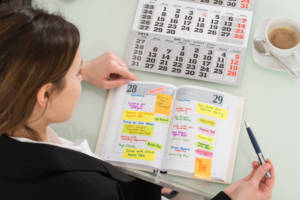 Now that I've opened the door and let you peek inside, what are you going to do about it? Are you going to use the planning master key to unlock your true potential?
Are you going to become a business SEAL and plan your dive and dive your plan?
Or are you going to sink deeper into mediocrity just out of reach of the golden shores upon which you want to tread so badly?
The choice is yours. For as little as $29 you can get your feet wet. For less than $100 you get your business started or re-started on the fast and profitable track!
For less than a nice dinner out with friends, the doors to all of the secrets to mastering dynamic plans that set you apart, push you ahead and create more opportunity and cash flow than you ever thought possible is just a click away.
A goal without a plan is just a wish. ~The Little Prince
Kindest regards,
Linda Finkle
P.S. – The key to winning is in the structure and accuracy of your plan. Learn what the most successful business gurus know and create winning plans that drive you to new heights of success and make others cringe at what to them is your superhuman ability to get what you want!