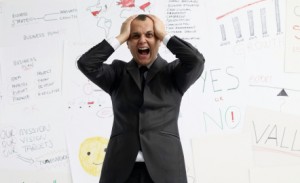 I've been writing business plans and project plans for as long as I can remember.
Early in my career, I was running a quality control department for a major institutional food manufacturing firm and this is where I first learned about planning. The president required all department heads to write a plan for their division. When I changed careers and went into sales, planning was a key component of the skills they taught. Not only were we required to do annual plans but monthly and even daily plans.
As part of business planning, I had to learn how to create project plans. Any time I wanted to attack a new vertical market or had an idea on a skill I wanted to learn…you name it they required a plan. Now I admit I am a bit anal retentive. I've been a perpetual list maker since I learned to write. So this whole idea of planning resonated with me and I found it easy to embrace. And it's helped me tremendously over the years in reaching many of my goals and seeing where my thinking was faulty or too aggressive or even when I didn't plan well enough.
But sometimes business planning just isn't enough. Even the best of plans, plans that consider the what ifs and oh s___ts can at times not accomplish what you set out to do. Let me share a very recent and personal example of 'when planning isn't enough.'
Two years ago I decided to rebuild the Incedo website. Anyhow in my typical anal retentive mode, I created this beautiful spreadsheet with all the tasks, pieces and who was responsible for those tasks listed in complete detail. It was color coded…it was a masterpiece! I sent it to all the people involved with the website redesign and asked for their input. We made some adjustments and off we went. Each person knew what they were responsible for and by when, including me. It was brilliant and clear and it should have worked without any hiccups. But guess what, it did not work without any hiccups…in fact, it was a huge mess.
What happened?
The first problem was the technical person tasked with handling the website left the company. When he left we realized that he hadn't done much on the redesign and what he had done was not correct. We discovered the theme my creative person had chosen was a template that didn't allow for customization. Ooops…that was a BIG problem. We ran into technical challenges that were the team couldn't have known about in advance. There were design challenges and just a host of other little issues that drove everyone crazy. Finally, after lots of late nights, the site was ready to be moved from the test site and go live. When we moved it, the home page got corrupted and they had to rebuild 90% of it from scratch. And guess what? I really didn't like it and this year we had to redo it AGAIN!
I'm not suggesting that business planning is a waste of time. Nor am I suggesting this is an example you can use as to why you shouldn't bother planning at all. What I am saying is that planning may not be enough. There are situations where you don't know what you don't know till you are in the thick of it. There are times where the unexpected happens. Stuff happens. What's most important is how you respond.
Don't assume a plan means everything will work out perfectly.
Expect the unexpected and don't let it wind you up. Focus on the goal, in this case, I wanted a website I loved and represented me and Incedo. The rest was just what we had to slog through to get there. Finally stay calm, breath, laugh and go drink some wine. Life is too short to do anything else.