WHEN A LEADER'S PERFORMANCE IMPROVES, PEOPLE ARE INSPIRED TO FOLLOW THAT LEADER.
Sometimes as business leaders, it's difficult to see the real problems that the company is having because we're too close to be objective. The symptoms of the problems are simple to see, and it's easy to assume that these symptoms are the real problem.
However, trying to treat symptoms is ineffective at best. At worst, it can cause irreparable damage in lost time, lost money, and lost people.
The point is that you know something is wrong and up until now, you haven't been able to solve it. Nothing has worked effectively and you're frustrated.
Could it be that you're trying to treat the symptom rather than the underlying problem?
WHEN THE STATUS QUO ISN'T AN OPTION.
It's impossible for you to become a brilliant leader alone.
It's quite possible that you have a tremendous amount of influence over the direction of your organization, but do you have a strategic partner who understands the nuances that influence success in your business? In today's fast-paced business world, you need objective feedback.
STOP TREATING THE SYMPTOMS!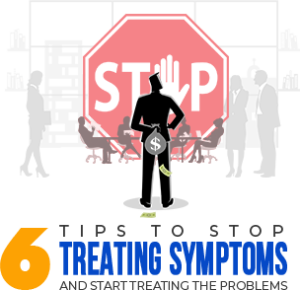 It's easy to treat symptoms, but that doesn't solve the real problem. Learn how to see beyond the surface to what's really going on in your organization with this free guide, "6 Tips to Stop Treating Symptoms and Start Treating the Problems." Every effective leader, like every good doctor, should be able to see what's really harming the health of your business. Get this guide and become a better diagnostician today!
In any business, there are dozens of potential problems, symptoms, and just things with which you're not happy. These can include:
Inconsistent hiring processes that cause you to never know if you're getting an asset or a liability.
Too many ideas and not enough focus.
Not enough time spent on business development because you and your staff are too busy managing the details.
Lack of systems to replicate performance that causes results to go up and down.
You've got too much on your place and it's hard to tell what is important and what isn't.
Repeated work due to poor execution, wasting time and siphoning away precious revenue.
Teams that deliver more arguments than results — you're not supposed to be a referee.
You can't control everything and everyone, that just reality. So where do you start? You start by making changes to yourself, and your team takes notice.
Maybe you're not the real problem, but you can be the real solution. Wherever you are, you can improve by honing your leadership skills, and you can open their eyes to your vision. More importantly, you can help them buy into it — that's when you get the kind of results you want.
BRILLIANT LEADERSHIP BEGINS WITH INSPIRED ACTION.
The good news is that you're not alone. As a business consultant, bestselling business author, creator of an 8-figure business, experienced coach with more than three decades of leadership coaching under my belt, and a track record to back up what I do, I'm the catalyst to help you get to the bottom of the problems and find permanent and profitable solutions.
That's great — a good business leader should always question. Let me address a few of your concerns:
Industry experience — your business may be unique, but your problems aren't. My value comes in being able to objectively analyze your circumstances and offer you a tailor-made solution through effective leadership coaching.
What's the cost of ignoring the problem? Stop and think about that for a moment. Ask yourself, "Will I have an organization to lead in one year if I DON'T take action today?"
Perhaps other consultants didn't deliver — think about what results you didn't get and why you hired them. I promise that if I don't believe I can bring value to your specific situation, we won't waste each other's time.
How will I know your leadership coaching is working? We'll create measurements and milestones to gauge your success. Remember, what you can measure, you can improve.
Even if you're not sure what your problems are, that's okay. That's very common. In fact, if you had all the answers, you wouldn't be here, would you?
DO YOU HAVE THE WILLPOWER TO PEEL BACK THE COVERS AND FACE WHAT'S CRAWLING BENEATH?
Sure, the bed may look pretty when it's all made up, but the bedbugs that are eating away at your productivity, cash flow, and the effectiveness of your teams are still lurking. Ignoring the real problem isn't going to make it go away.
You can sit back and do nothing, or you can take the reins and make a difference. Work with me and we'll break through the symptoms of your business' troubles and find the real problems — and solve them once and for all.
It takes a courageous person to realize that they need help and ask for it. If you're that person and you really want to lead your company to a brighter future, then give me a call and let's start by seeing if we can work together through successful leadership coaching.
Be the courageous person to realize that they need help and ask for it. If you're that person and you really want to lead your company to a brighter future, then give me a call and let's start by seeing if we can work together through successful leadership coaching.
Be the courageous leader you know you are — don't spend another day suffering from the same old symptoms. This is your chance to turn things around and make a real difference, so make the decision today.
30 minutes could change your results. Book your complimentary session today!
DON'T TAKE MY WORD FOR IT!
When I started to work with Linda I knew I was ready for something more, and needed help to get there. I wanted to take my business to the million-dollar producer level and knew I needed to create a business model that would provide sustainable growth. I heard Linda speak at a conference and knew then I needed to work with her. Her energetic style and long list of accomplishments came across during her presentation and motivated me into action. Her customized approach to coaching has helped me focus on my strengths, set realistic goals and keeps me accountable. In the last year, my business is 30% over the previous year, I am more confident and recognize and embrace my talents and abilities to create a business that resonates with who I am. I'm looking forward to reaching the million-dollar producer level with Linda's support and help.
I believe working with Linda at Incedo Group has made me a better leader. The bottom line is she forces you to sit down and think about what you are doing, why you are doing it, how you are doing it and its impact on others. This is invaluable to leaders who have to perform at their peak, in a world that equally regards consistency and the willingness to change.
I've found working with Linda provokes me to think, analyze and take action on the things that I need to change in order for me to have better outcomes.
Linda Finkle is incredibly insightful, thought-provoking and genuinely helpful. She combines strong listening skills with very practical and compelling business judgment. Linda's coaching has been instrumental in identifying and developing critical success factors in key senior leaders. Most important, Linda cares deeply about her professional relationships. She is certainly interested in success, but more importantly she is unequivocally committed to doing what is right. We place enormous value on our relationship with Linda and know that together we will share many future successes.
ARE YOU READY TO BE THE LEADER WHO WILL LIFT OTHERS TO GREATNESS?