BUSINESS PARTNERS CONSULTING
BAD PARTNERSHIPS AREN'T JUST STRESSFUL -- THEY'RE A THREAT TO YOUR COMPANY'S VERY SURVIVAL.
The biggest issue with partnerships is the people involved. You just can't control everybody — and not everybody is born with the innate ability to work as a team toward a common goal. A partnership that isn't working — whatever the reason — is a clear and present danger to the continued success of your company. Studies have shown that more than 80% of poorly designed and managed partnerships end with dissolution at best, and the complete destruction of the business at worst.
If you and your partners are having problems, they need to be solved and solved permanently. Aside from arguing, finger pointing, and a general loss of productivity, the enormous stress caused to both you and your staff is resulting in lost opportunities and more.
It really comes down to dollars and cents. If you and your partners are spending X hours per week in disagreement with each other, you're taking that time away from actually doing business. That doesn't even begin to account for the chaos that could potentially be caused by the stress in the work environment for your team.
In essence, issues that arise in your partnerships could potentially cost you thousands of dollars — and they don't have to. The cost of a bad partnership can be devastating!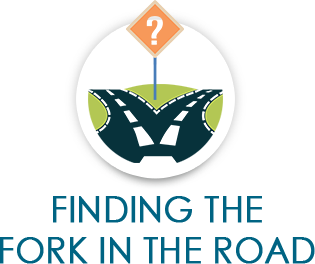 In addition to my decades of experience, I'm the author of "Finding the Fork in the Road" – an Amazon best-selling book on business. I'd like to offer you the chance to download the first chapter absolutely free. This chapter focuses on partnerships and provides invaluable insight into your own business.
GET IT NOW!
You're not alone. Many partnerships, whether it's a family business, a couple of friends working together, or a group of 30 professionals, have issues.
Does any of this sound familiar?
Not every one of your partners has the same skills and yet they want the same benefits.
Goals and direction aren't clear, leading to disagreements and creating anxiety among your staff, or worse.
Your company is experiencing high turnover for key staff members, and ultimately, the loss of revenue.
Not everyone has the same idea of which direction the company should go, so it goes nowhere fast. Lack of clear direction from the top is frustrating for your staff and can lead to a huge decline in productivity.
You're experiencing battles over compensation, equity shares, and who is in charge of what.
Some partners seem more committed than others, yet everybody wants an equal share.
Your company has a lack of clear communication, the #1 enemy to partnership and business success.
Each of us has a different communication style, and with some ground rules for effective communication, it's possible to stop the bad blood caused by poor or ineffective habits, not to mention undesirable personal habits, personality quirks, and other difficulties that make it impossible to work things out and create an atmosphere of fear, stress, and uncertainty throughout the entire company.
So it's time to break the cycle, fix your problems and take the time you waste arguing with each other and learn to work together effectively to improve your staff productivity and generate profit.
How many thousands of dollars per week are you watching go down the drain simply because the partners aren't getting along the way they should? As you continue to focus on your disagreement with your partners, your ability to pursue business opportunities is diminished.
I've worked with many partnerships over the past fifteen years, and there's always a solution. It doesn't matter whose fault it is, who's not doing what, or any other reason. The fact is that I turn broken partnerships into money-making ventures through effective business partners consulting.
At the end of the day, every partner has to take responsibility and assume the role that they must play. With my proven approach, we'll work to smooth the rough edges and create a working relationship everyone can agree to that will create long-term success — even if that means one or more partners bows out and moves on.
Solving your partnership challenges comes in two vital forms. First, the prescriptive approach. We work together to discover the existing roadblocks and create a plan to get things moving again.
The second approach is the preventive plan. This plan will keep your partnership functioning from now on and creates established boundaries, roles, and delineations that everyone can feel good about.
This isn't theory or a one-size-fits-all program — this is a tailor-made solution designed for your unique circumstances. Studies show that 86% of partnerships that operate with an effective plan thrive.
So do you want your partnership to crumble under the weight of conflict and other potential problems, or do you want to build an effective partnership where each partner uses his or her strengths to build and support the success of the business?
If you're wondering how much working with my business partners consulting program might cost — consider how much you're losing now. Whatever your current situation is in your partnership, consider the drain it's creating on your mental and physical energy — and then multiply that ten-fold to see what's happening for your staff — and your revenue. Can you afford to continue down the path you're currently traveling?
Whatever is wrong isn't going to heal itself. Whatever you resist persists. In fact, what you resist not only persists, but grows in size. Can you afford to have the current problems in your partnership increase? If you truly want to make a change, then you're going to have to take committed action right NOW. I won't like to you — you and your partners are going to have to step up to the plate, take responsibility, and agree to work to fix the issues.
The choice is yours — let huge sums of cash bleed away from your wounded partnership or bit the bullet and do something about it right now. If you have the desire to make a change, I have a business partners consulting solution to help put your business back in your envisioned path to success.
30 minutes could change your results. Book your complimentary session today!
DON'T TAKE MY WORD FOR IT!
When I started to work with Linda I knew I was ready for something more, and needed help to get there. I wanted to take my business to the million-dollar producer level and knew I needed to create a business model that would provide sustainable growth. I heard Linda speak at a conference and knew then I needed to work with her. Her energetic style and long list of accomplishments came across during her presentation and motivated me into action. Her customized approach to coaching has helped me focus on my strengths, set realistic goals and keeps me accountable. In the last year, my business is 30% over the previous year, I am more confident and recognize and embrace my talents and abilities to create a business that resonates with who I am. I'm looking forward to reaching the million-dollar producer level with Linda's support and help.
I believe working with Linda at Incedo Group has made me a better leader. The bottom line is she forces you to sit down and think about what you are doing, why you are doing it, how you are doing it and its impact on others. This is invaluable to leaders who have to perform at their peak, in a world that equally regards consistency and the willingness to change.
I've found working with Linda provokes me to think, analyze and take action on the things that I need to change in order for me to have better outcomes.
I've found working with Linda provokes me to think, analyze and take action on the things that I need to change in order for me to have better outcomes.
Linda Finkle is incredibly insightful, thought-provoking and genuinely helpful. She combines strong listening skills with very practical and compelling business judgment. Linda's coaching has been instrumental in identifying and developing critical success factors in key senior leaders. Most important, Linda cares deeply about her professional relationships. She is certainly interested in success, but more importantly she is unequivocally committed to doing what is right. We place enormous value on our relationship with Linda and know that together we will share many future successes.
NOW IS A GOOD TIME FOR A REALITY CHECK!
Avoid partnership pitfalls and streamline your relationships. The current and future health of your business relies on how well you and your partners work together. My business partners consulting program can help your company resolve common issues such as: