CUSTOMER SERVICE TRAINING
POOR CUSTOMER SERVICE DOESN'T JUST CRUSH REVENUE -- IT EARNS YOU A BAD REPUTATION.
When your call center agents aren't operating at peak performance, everyone suffers. Poor customer relations, an inability to upsell, a poor closing rate, and playing the blame game are all symptoms of a dangerous problem. Without adequate customer service training, these issues have the potential to become fatal.
If you're dealing with:
High agent turnover because of poor performance.
Angry customers who don't buy but are taking the time to trash your reputation.
Agents who cower in the face of customer objections instead of overcoming them, leading to loss of revenue and frustration.
New hires underperforming due to an ineffective training system (or no training system at all) to get them started on the right foot.
Managers and agents blaming each other instead of working together with an established system.
Inconsistent revenue, leading to stressful stagnation and alarming uncertainty about the company's financial future.
No customer engagement, leading to your best and repeat customers avoiding you.
…THEN YOU NEED TO TAKE ACTION NOW BEFORE IT'S TOO LATE!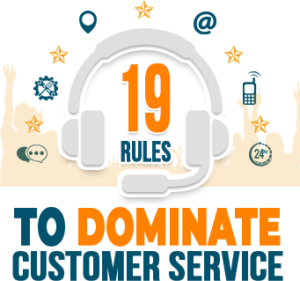 Download this free guide to the proven and unbreakable rules that guide customer service success. The first step to getting where you want to be is having a clear path to take, and these rules are the roadmap for every successful customer service approach.
Download this invaluable guide now and you may be surprised by what you find!
DON'T CONTINUE TO ALLOW POOR CUSTOMER SERVICE TO EAT AWAY AT YOUR PROFITS AND YOUR BUSINESS.
There's only one reason why your call center isn't running smoothly and your customers are complaining. It's because your current system is failing and it needs a boost.
It's easy to get frustrated to get frustrated and blame the agents. It's easy to assume things will get better on their own, or look the other way and hope that your company is just in a slump.
The fact is, things won't get better on their own and fast action is the only thing that's going to plug the revenue leaks, create more effective and profitable agents, and build a solid long-term solution that drives your company's growth and reputation for quality.
Over the past 30+ years, I've worked with companies struggling with unacceptable customer service performance. I've created a customer service training system that's a step ahead of the others you may have tried for one simple reason:
IT'S CUSTOMIZED TO YOUR COMPANY AND IS DESIGNED TO LAST.
Through in-depth analysis, I diagnose your current performance issues. I listen to calls, review sales data and scripts, and determine how to solve the issues you're facing.
Then we work together to create a long-term training program through the use of one-on-one and group training. This is the preventive side of the plan, and comes with built-in booster shots to make sure our new system works for years to come.
We focus on proven performance enhancers such as:
Updating customer service scripts to improve closing rates.
Training agents to create rapport with customers and eliminate bad PR.
Teaching agents how to effectively and consistently upsell to boost profits.
Providing a comprehensive training program allowing new hires to be successful immediately.
Improving hiring processes to find the superstars.
Giving management a proven and effective training system that works to stabilize call center results and bring in consistent cash flow for future growth.
You can continue to turn a blind eye to what's going on in your customer service center, or you can decide today to make a positive change. Perhaps you've tried customer service training programs in the past and they didn't work.
Well, that's likely because it was a short-term Band-Aid that provided generic information that didn't apply to you.
My approach is totally focused on your unique needs and if you're willing to step up and make things happen, then I'll be the spark that lights a profitable blaze in your company. It's up to you.
Don't lose another sales because of wimpy customer service agents.
Don't let another opportunity to upsell pass by.
Don't watch as another customer gives their business to your competition.
Don't lose another strong agent due to stress, low pay, or bad scripts.
Don't read yet another article or blog post from an angry customer about why nobody should ever buy from you again.
Don't wast time hiring the wrong people.
Do you want to skyrocket your sales and drive your company's growth or do you want to watch your business slowly dissolve? You can make a difference right now — pick up the phone and call me. If we've got the basis for a working relationship, then we'll take the next step.
If you're sick and tired of poor results and are ready to turn things around, if you're done watching cash that could be yours go to your competition, and if you're tired of listening to excuses and want to hear success stories, click below.
30 minutes could change your results. Book your complimentary session today!
DON'T TAKE MY WORD FOR IT!
When I started to work with Linda I knew I was ready for something more, and needed help to get there. I wanted to take my business to the million-dollar producer level and knew I needed to create a business model that would provide sustainable growth. I heard Linda speak at a conference and knew then I needed to work with her. Her energetic style and long list of accomplishments came across during her presentation and motivated me into action. Her customized approach to coaching has helped me focus on my strengths, set realistic goals and keeps me accountable. In the last year, my business is 30% over the previous year, I am more confident and recognize and embrace my talents and abilities to create a business that resonates with who I am. I'm looking forward to reaching the million-dollar producer level with Linda's support and help.
I believe working with Linda at Incedo Group has made me a better leader. The bottom line is she forces you to sit down and think about what you are doing, why you are doing it, how you are doing it and its impact on others. This is invaluable to leaders who have to perform at their peak, in a world that equally regards consistency and the willingness to change.
I've found working with Linda provokes me to think, analyze and take action on the things that I need to change in order for me to have better outcomes.
Linda Finkle is incredibly insightful, thought-provoking and genuinely helpful. She combines strong listening skills with very practical and compelling business judgment. Linda's coaching has been instrumental in identifying and developing critical success factors in key senior leaders. Most important, Linda cares deeply about her professional relationships. She is certainly interested in success, but more importantly she is unequivocally committed to doing what is right. We place enormous value on our relationship with Linda and know that together we will share many future successes.
TAKE BACK YOUR CASH FLOW AND YOUR REPUTATION.