Stop low and declining sales performance — take the bull by the horns and boost sales with a proven solution.
Your business is totally depending on sales. Sales is the engine that drives your success — so why are you willing to live with less?
Every business experiences flat or inconsistent sales at some point. Whether it's the market, ineffective or untrained sales people, price point issues, or an inability to retain repeat customers, the result is the same — frustrating revenue stagnation. Poor sales performance can even bring your business to a grinding halt.
The future of your business and the results that your sales people deliver is up to you — so the question is, have you had enough of mediocrity?
Does any of this sound familiar to you?
Your revenue is up one month and down the next — you feel like you're on a sales roller coaster, and your hands are tied when it comes to planning for future purchases and investments in your business.
Poor closing rates are trickling down to every part of the business — it's hard to make payroll, invoices are going unpaid, there are delays in delivery, and you're experiencing other financial hardships.
You have difficulty retaining customers to keep the revenue flowing, which increases your acquisition and marketing costs.
Your hiring process doesn't seem to bring in top sales performers, costing you more money and further slowing you down.
Poor or ineffective sales skills training (or no training at all) means even your seasoned sales team isn't at their best, and new hires may never reach their full potential.
Your management spends time selling instead of training, further hacking away at your profit margin.
STOP TREATING THE SYMPTOMS!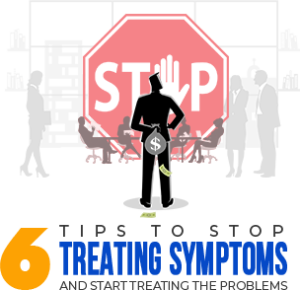 It's easy to treat symptoms, but that doesn't solve the real problem. Learn how to see beyond the surface to what's really going on in your organization with this free guide, "6 Tips to Stop Treating Symptoms and Start Treating the Problems." Every effective leader, like every good doctor, should be able to see what's really harming the health of your business. Get this guide and become a better diagnostician today!
You have few to no metrics, forcing your sales team to spend too much time with the wrong prospects, rather than building relationships and nurturing repeat customers.
You have little or no upselling, or an inability to extend engagements by sales people, forcing you to start the entire process over with new clients putting you in an expensive acquisition cycle.
You have a rapid turnover of sales professionals, leading to lost customers and time spent recruiting and training new hires rather than developing top sales people and increased sales.
In the end, people become stressed out and waste their time and yours by pointing fingers instead of performing, your customers don't return and at the end of the day the money you need just isn't there.
Not only does poor sales performance directly affect your income stream, it leads to a high turnover and the loss of your best sales people. Now you're in a cycle of more time spent applying bandages instead of a cure, the stress level of management goes up, and you have to work that much harder to stay afloat.
Inadequate sales performance is a problem you can't afford to ignore.
It's easy to get frustrated and assume there's no real solution. After all, you may have tried some sales skills training workshops or maybe an occasional consultation. Sometimes these work, or work for a little while, and yet somehow your sales aren't consistent, your revenue fluctuates, and the frustrations doesn't seem to end.
So even if you've invested in sales training in the past, your team has gained invaluable insights, skills and strategies, and the numbers begin to improve — what happens next?
Many sales skills training workshops are designed to get your team fired up and enthusiastic, but the fire quickly dies once they return to their daily work environment. And so much of the sales material available is one-size-fits all based on hypothetical situations that don't apply in the real world. You absolutely need a tailor-made solution, specifically designed for your unique needs.
Avoid these costly mistakes and close more sales.
For over 30 years, I've worked closely with many companies dealing with frustrating and even dangerously inconsistent sales. There's no magic trick or push button solution. I take the time to get to know you, your company, your people, and work with you to create an immediate solution that works for the long haul.
I create a sales skills training program that gives your current sales people every advantage and skill they need to succeed. You're able to train new hires to start out on the right foot. We build in booster shots to make sure that the training system works over time — i t's not just a single shot in the arm, it's a long-term, preventive health plan.
Don't let another deal slip through your fingers.
Don't watch as another long-time customer goes across the street to your competitor.
Don't lose another valuable sales person.
Don't waste your time hiring another dud.
You don't need to feel the financial crunch of flat sales every again. You can sit back and do nothing and hope things get better, but they won't. Or you can do what truly successful sales leaders do — take action, take control, and take advantage of a sales skills training program that truly works.
My approach is very much dependent upon establishing a good working relationship. Neither of us has time to waste, so that's why a brief introductory call is so important. If you want to go on doing the same old thing and getting the same old results, don't bother picking up the phone.
But if you're fed up with scripts and tactics and are ready for clear, authentic communication that allows your salespeople to engage AND close prospects, let's talk. Make the decision today to provide your team with sales skills training that helps them serve the needs of your customers. Don't waste one more day losing sales to your top competitor — contact me now!
30 minutes could change your results. Book your complimentary session today!
DON'T TAKE MY WORD FOR IT!
When I started to work with Linda I knew I was ready for something more, and needed help to get there. I wanted to take my business to the million-dollar producer level and knew I needed to create a business model that would provide sustainable growth. I heard Linda speak at a conference and knew then I needed to work with her. Her energetic style and long list of accomplishments came across during her presentation and motivated me into action. Her customized approach to coaching has helped me focus on my strengths, set realistic goals and keeps me accountable. In the last year, my business is 30% over the previous year, I am more confident and recognize and embrace my talents and abilities to create a business that resonates with who I am. I'm looking forward to reaching the million-dollar producer level with Linda's support and help.
I believe working with Linda at Incedo Group has made me a better leader. The bottom line is she forces you to sit down and think about what you are doing, why you are doing it, how you are doing it and its impact on others. This is invaluable to leaders who have to perform at their peak, in a world that equally regards consistency and the willingness to change.
I've found working with Linda provokes me to think, analyze and take action on the things that I need to change in order for me to have better outcomes.
Linda Finkle is incredibly insightful, thought-provoking and genuinely helpful. She combines strong listening skills with very practical and compelling business judgment. Linda's coaching has been instrumental in identifying and developing critical success factors in key senior leaders. Most important, Linda cares deeply about her professional relationships. She is certainly interested in success, but more importantly she is unequivocally committed to doing what is right. We place enormous value on our relationship with Linda and know that together we will share many future successes.