ga('create', 'UA-1231826-1', 'auto'); ga('send', 'pageview');
When it comes to your personal sales record, the long-term stability of your sales team or the financial health of your professional services company, nothing is more critical than your ability to close new business on a consistent basis.
In fact, if you're reading this now, it's safe to assume that your revenue from either the sale of products or services, re-engaging old customers or up sales is inconsistent and unacceptable. You may be feeling the financial crunch of not really knowing if you're going to meet your sales goals.
Maybe you're frustrated because you aren't closing new clients or keeping old ones and not only can you not plan for growth, your business may actually be in danger of folding in on itself as a result.
If you're a sales person or sales manager, the products you sell are important.
For those of you who provide professional services, who you serve as a doctor, lawyer, accountant, etc., is important.
Adapting to new technologies is important, too…
Yet, if you can't close enough new business, keep your old customers coming back for more and extend engagements or upsell…none of that matters because at best you're going to flounder and at worst you're going to go right out of business!
Like it or not, successful selling skills are vital to your company's long-term growth and profit and it's high time you or the people responsible for bringing in business stepped up and began bringing in truckloads of money.
It's time to close 80% of all sales or clients consistently and profitably!
If I could show you the way…if I could prove to you that this kind of sales performance isn't something that's innate in a few lucky people, but can be achieved by anyone with the right knowledge and tools, would you do what all successful people do and acquire the right tool, learn the use of that tool, and consistently and persistently apply your knowledge until your accounting department begs you to stop because their hands are twisted into painful claws from endorsing all of those commissions?
Or are you going to ignore your flagging numbers and hope it all gets better by itself?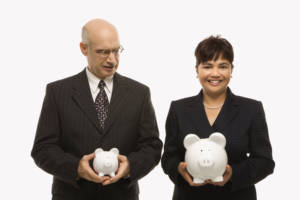 Be the kind of closer that makes your competitors burn with envy
My name is Linda Finkle, MCC (Master Certified Coach), best-selling business author, creator of an 8-figure recruiting firm, and field-tested sales person. For over 30 years, I've honed my skills and have shown hundreds of other sales people and professional services businesses the science behind unparalleled sales success.
They call me "The Elephant Chaser" because as an objective sales and business coach, I have the uncanny ability to go into any organization and spot the problem that's holding them back almost immediately. I've got the expertise and the tenacity to get them to listen and to follow our plan to achieve a level of financial success they previously thought impossible.
Those that have used my training improve their closing rates, learn how to spend more time with the right prospects and stay away from the wrong ones, learn how to build relationships that provide sales, master the art of re-engagement and boost their ability to upsell, and much more.
I recently helped a client increase their closing rate which translated into more than $400,000 directly to their bottom line.
A real estate agent increased his average home sale from $350,000 to over $1,000,000 and went from reducing his fees to 4% to not reducing them at all in just over a year.
A 20-year veteran of the financial services industry worked with me and increased her overall production by 30%.
When I was recruiting, my closing rate was consistently over 90%.
My currently closing rate is 80% for new clients with whom I choose to work.
More than 70% of my business comes from referrals right now.
40% of my clients routinely purchase additional products or services during our engagement.
I built a recruiting firm that was in the top 10% of the industry with more than $7 million in revenue annually.
Through hard work and more than three decades of experience, I've mastered and created a proven and scientific system that gives you unmatched sales ability. Now I want to share it with you and give you the benefit of what I've learned and taught and save you the stress, anger, and heart ache of trying to learn it the hard way like I did!
Boost your closing rate to new heights
In my new training course, Stop Think Sell!, I lay out the step-by-step process that turns any sales person into a top performer. No matter what product you sell — there is a proven method for creating and filling a sales pipeline that bursts with a flood of new customers and old.
The techniques in this straight forward and field-proven system transforms any associate of a professional services firm into a business development warrior that your competition will despise.
At least, if you're willing to take what I teach and faithfully apply it in the real world in which you work!
In these 17 lessons, you'll discover:
Why becoming a top sales associate or top business developer is so darned important.
Planning your sales strategy and why it's critical to your profitability.
How to handle objections and why not overcoming them can kill a business.
Mastering cold calling and how to turn a phone call into a closed customer or client.
How to truly understand the customer and how to present your offering to serve their needs and wants.
How to build trust and why not doing so sends so much business to your competition.
How to build relationships with new and existing clients and customers for long term profits and a steady stream of reliable income.
The science behind upselling and how to use it to line your pockets with gold.
How to manage yourself throughout the sales process so that you turn nos into maybes and maybes into yeses!
How much money can flood in simply by learning the right way to ask for referrals.
And much, much more!
Well-earned praise from Linda's clients and students
We initially engaged Linda to help make a successful transition off of our current team at the time and form a new team of our own. In preparation for this transition, she helped us develop our new team structure and roles by diving into our SWOT analysis, business plan, and goals. We worked through the conversations we would have with management, current team members, our clients, and potential new hires. As a result of our work with Linda, we were well prepared for the conversations, kept 100% of our clients, and hired a new assistant. During this time, we had to stay focused on our metrics for the business and meet our goals, which Linda ensured we did.
We interviewed several coaches and scheduled those calls back-to-back. Upon completion of the calls but before having a thorough debriefing conversation with each other, we each had Linda at the top of our list.
Sonja: "During our interview call, she kind of scared us. I felt that she would definitely be able to hold us accountable."
Blake: "Linda has great rapport and is very relationship-focused."
These were the initial reasons we hired Linda, but they still hold true today. The combination of these has led to an amazing relationship that neither of us would give up for the world. We continue to work with Linda to help us take our business to the next level.
When I started to work with Linda I knew I was ready for something more, and needed help to get there. I wanted to take my business to the million-dollar producer level and knew I needed to create a business model that would provide sustainable growth. I heard Linda speak at a conference and knew then I needed to work with her. Her energetic style and long list of accomplishments came across during her presentation and motivated me into action. Her customized approach to coaching has helped me focus on my strengths, set realistic goals and keeps me accountable. In the last year, my business is 30% over the previous year, I am more confident and recognize and embrace my talents and abilities to create a business that resonates with who I am. I'm looking forward to reaching the million-dollar producer level with Linda's support and help.
I've found working with Linda provokes me to think, analyze and take action on the things that I need to change in order for me to have better outcomes.
We hired Linda to speak at our annual Women in Finance event with the theme this year on Professional Presence when Linda discussed negotiating skills for women. Linda was easy to work with from our first interaction. She clearly knew the topic and customized it to our audience. One of our members said "The negotiation's presentation was perfect, as I learned a lot and have already shared it with my assistant, husband, and few friends who already have learned something from you, too!" The presentation was productive and information and Linda was an engaging speaker. If you are looking for an inspired, motivated speaker then Linda would be an excellent choice.
Linda Finkle is incredibly insightful, thought-provoking and genuinely helpful. She combines strong listening skills with very practical and compelling business judgment. Linda's coaching has been instrumental in identifying and developing critical success factors in key senior leaders. Most important, Linda cares deeply about her professional relationships. She is certainly interested in success, but more importantly she is unequivocally committed to doing what is right. We place enormous value on our relationship with Linda and know that together we will share many future successes.
I believe working with Linda at Incedo Group has made me a better leader. The bottom line is she forces you to sit down and think about what you are doing, why you are doing it, how you are doing it and its impact on others. This is invaluable to leaders who have to perform at their peak, in a world that equally regards consistency and the willingness to change.
I had recently been promoted to a Director position, and was looking for guidance in stepping into that role, and continuing on a path of professional growth. My objectives were to improve my leadership abilities, learn to effectively hold others accountable, learn to look at the company as a whole vs. just my department, and contribute to the direction and success of the company as a whole.
In addition to stepping into the promotion to Director, there were also major changes in the organization at that time. Linda helped me navigate the landscape in a professional and effective way. Her guidance gave me the tools to stay centered and remain focused. In addition to the internal organizational changes, a couple of my largest accounts had been struggling, resulting in loss of business for all of their major partners. While working with Linda, I was able to increase my overall sales in the face of those major challenges. I believe that my work with Linda has elevated me as a professional, providing me sustainable skills and abilities to continue to escalate my career.
As a woman who is striving to be successful in business, I was drawn to Linda as an example of a strong, successful, and confident woman who had a lot of experiences to pull from. Further, her style of communication is straightforward, easy, and open. I spoke with 3 or 4 coaches, and the choice was quick and easy.
When we hired Linda, we wanted to develop two of our managers' communication skills to prepare them for the C-suite. We wanted to put concrete deliverables into action such that learning could be applied in real time. Working with Linda, our managers not only had the opportunity to bat above their class, but improved their communication skills across the board and clarified and refined their developmental goals.
Linda was recommended from a long-time colleague in employee relations that I trust. After speaking with her and several others, she was the clear choice. A strong coach who insists on establishing measurable outcomes. Compassionate but direct, time with Linda is well spent.
I've designed the "Stop, Think, Sell" course so that you get the maximum benefit with the least amount of effort. In other words, you don't have to take any time away from those tasks that make you money to learn…and the course is only going to make you more effective and more profitable in the meantime.
Your 17 lessons include:
Lesson 1 -- Selling, getting started
Lesson 2 -- Cold calling, part 1
Lesson 3 -- Cold calling, part 2
Lesson 4 -- Preparing for the sale
Lesson 5 -- Understanding the customer
Lesson 6 -- Uncovering customer needs
Lesson 7 -- Handling objections, part 1
Lesson 8 -- Handling objections, part 2
Lesson 9 -- Asking for permission and gaining trust
Lesson 10 -- Walking away
Lesson 11 -- Successful sales people
Lesson 12 -- Managing yourself
Lesson 13 -- Managing client expectations
Lesson 14 -- Client development for long-term relationships
Lesson 15 -- Asking for referrals
Lesson 16 -- Upselling
Lesson 17 -- Business development vs sales
Special Bonus
In addition to the 17 audio lessons and their accompanying workbooks, I'm also throwing in several free gifts to help you accelerate your learning and add power to your ability to generate cold, hard cash. Each lesson comes with its own added bonus, which may be a relevant article, a performance assessment, a script to use with clients and customers, and so on.
While I can't guarantee results because I'm not there to kick you in the butt, I want to extend to you a special offer as a way to make sure that you get all that you can from Stop Think Sell, and that you have every opportunity to succeed beyond your expectations.
If, after going through the 17 lessons and all of the accompanying workbooks and bonuses, you find yourself falling short of the goals you want to achieve, then give me a call.
That's right — give me a call and you'll get one hour of my complete attention, a $500 value, and you can ask me questions, discuss anything you aren't quite sure about or just chat about how to apply the lessons to your specific circumstances.
Don't let another sale slip through your fingers or another client give their time and money to your competitor
The choice is yours. You can continue doing what isn't working and facing an uncertain future, or you can take action right now. Take the bull by the horns and learn the scientifically-proven, field-tested art of becoming a master closer. If you want to leave sluggish sales numbers behind and become the hero that takes your business to the next level, then click the button below and make it happen right now!
Warmest regards,
Linda Finkle
P.S. — It's time to stop stressing over poor sales numbers…it's time to stop worrying about when the next client is going to come through your door…it's time to stop wondering what to do and start doing what works. Get "Stop Think Sell" now for only $697 and take command of your income and become a top performer in as little as 4 weeks!